Five Best Angelfish Tank Mates
Angelfish are both fantastic and fascinating, and if there were one species people would most associate with the freshwater fishkeeping hobby, it would probably be these ones. Their round bodies and triangular fins are almost instantly recognizable, and their interactive behavior has made them hobbyist favorites around the globe.
It's nonetheless important to consider the challenge they come with: determining the tank mates, because they are predators in the wild, and as a rule, they will eat any fish they can fit in their mouths.
If you want to select tank mates for your angelfish, have a look at these fishes.
Here are some best angelfish tank mates that you'll surely love!
Platies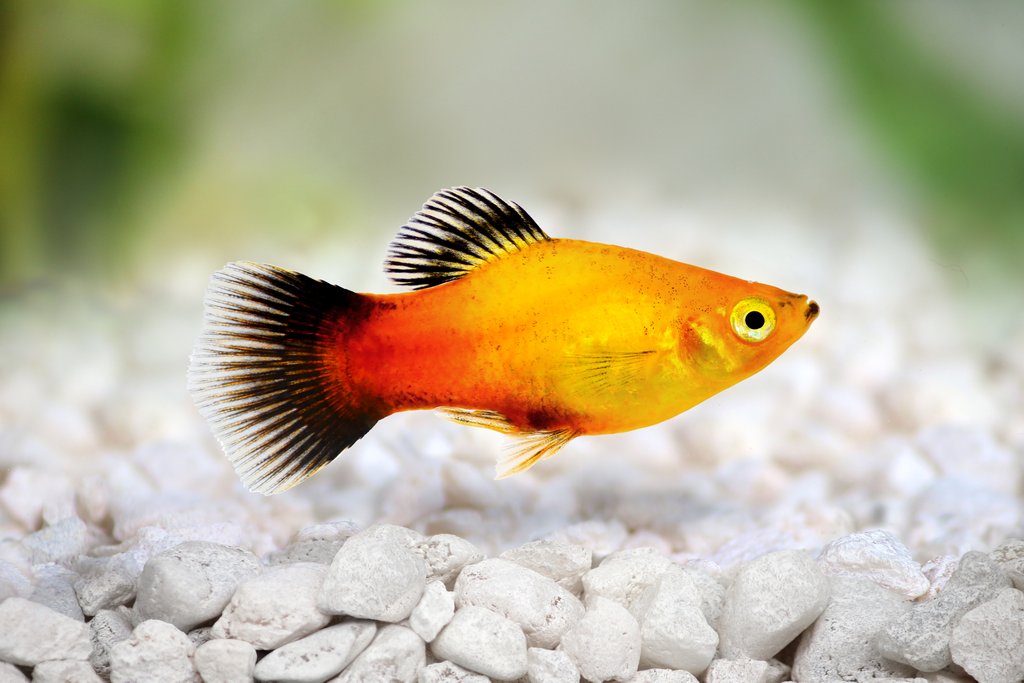 If you're a beginner when it comes to taking care of little fishies, platies are one of the best beginner fishes out there. They are beautiful and extremely colorful, but they are also tough. Don't worry though, they can blend in real quick with your angelfish. They do reproduce fast and can turn your aquarium into Platies Land.
Compatibility Rank:

Five stars

Care Level:

Easy

Size:

2.5 Inches

Temperate Requirements:

68-79 °F
Swordtails
Swordtails or Xiphophorous hellerii are colorful, lively fish closely related to platies. They are excellent tank mates for your angelfish due to its peaceful nature even with a relatively aggressive fish and easy to care for.  
Swordtails come in many assorted colors and varieties. They are easy to breed and often reproduce without owners even realizing. Males have a trademark: an elongated fin, providing them the "Swordtail" name. Keeping both Angelfishes and Swordtails will result in no offsprings because they tend to get eaten up by the parents or other fishes quickly.
Compatibility Rank:

Five stars

Care Level:

Easy

Size:

4 Inches

Temperate Requirements:

64-82 °F
Corydora Catfish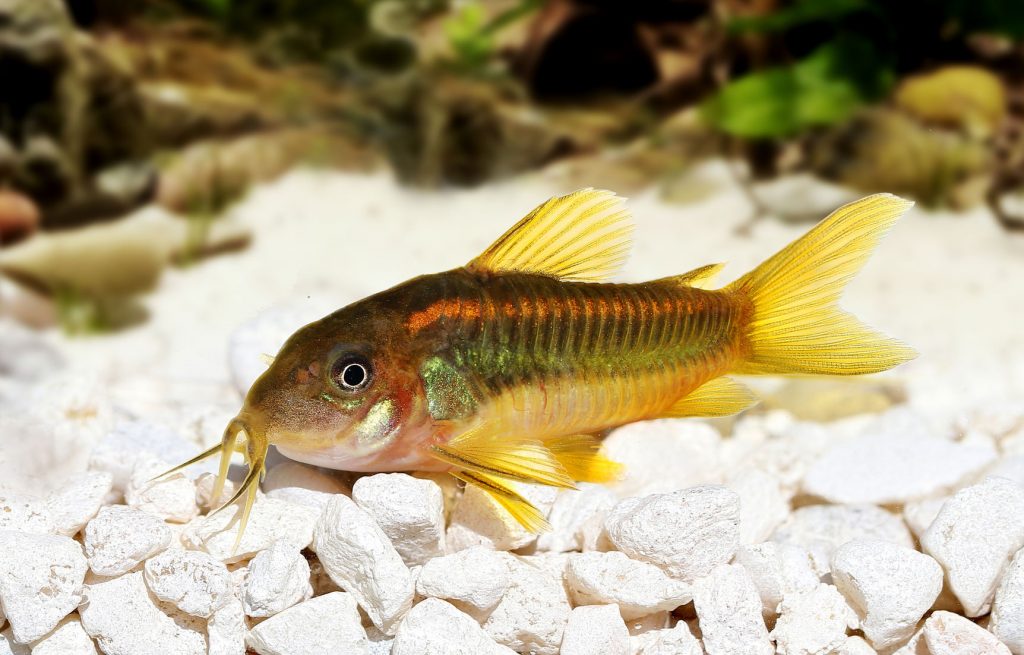 One of the most popular freshwater aquarium fish, Corydora Catfish are shy and timid fishes. They are low maintenance and just needs a peaceful temperament, perfect for Angelfishes.
They live in groups, so tank owners should plan to buy at least three or four Corys. Also, there are several types of Corydoras Catfish, and getting one to your liking should be a piece of cake.
Compatibility Rank:

Five stars

Care Level:

Moderate

Size:

2.5 Inches

Temperate Requirements:

72-78 °F
Gourami
Native to the Indian Subcontinent, Gourami are colorful, making for great companions to angelfish, despite not even being from the same side of the world. They're not too rowdy, are reserved and can withstand a wide range of water conditions.
Make sure to keep your eye on how they interact. If your Angelfish is especially territorial or aggressive, Dwarf Gourami might not be the best choice. A gourami is so submissive that let other fishes bully them. Don't worry though! Dwarf Gourami and Angelfish usually get along nicely.
Compatibility Rank:

Three stars

Care Level:

Moderate

Size:

2 Inches

Temperate Requirements:

72-82 °F
German Blue Ram Cichlids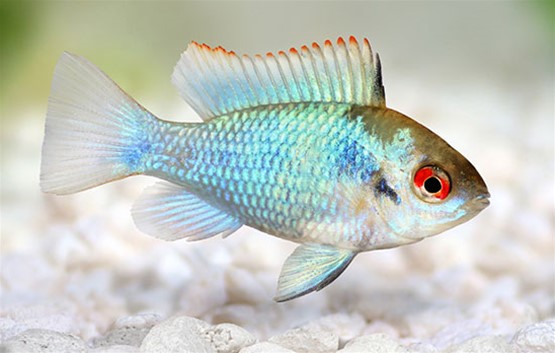 The German Blue Ram or Mikrogeophagus ramirezi is one of the most beautiful freshwater cichlids with their fierce looks. They are becoming more popular, and it's a perfect choice for a tank mate. They are relatively peaceful and live perfectly with non-aggressive fishes.
While they make great tank mates for Angelfish, they can be a little tricky to care for. You need perfect water quality for this fish. They are very sensitive to high levels of Nitrate and other toxins, so make sure to test your water often.
Compatibility Rank:

Four stars

Care Level:

Moderately Difficult

Size:

2.5 Inches

Temperate Requirements:

72-79 °F
Angelfish are an impressive and beautiful breed, and if you're careful and followed this guide carefully, you can actively build a community tank with these fish as the centerpiece. Just remember to try and stay away from small fish, fin nippers, and overly aggressive fish.